By Mysterious Destinations Magazine Staff
During our 2018 Research Expedition, the Mysterious Destinations Magazine Team was looking forward to lunch and a couple of cold beers at Restaurant 1833 located in the historic and haunted Stokes Adobe in Monterey, California. Our eager anticipation turned to great disappointment when we learned the restaurant had closed, leaving the building silent and vacant, except for the resident spirits.
Since that foray, the building has gone on the real estate market, with an asking price of $2,975,000, as of August 1, 2020; a step down from the original asking of $3,350,000 in 2019. (For those readers interested in making an offer, information on the broker is included at the end of this article.)
A reduced asking price, and the possibility of an even lower final price, may make this elegant building a real score for bargain hunters, but it's buyers beware… The building comes with a history a dark happenings and well-documented hauntings.
Historic Structure
The original adobe structure was built in 1833 for Ambrose Tomlinson. Prior to Tomlinson's construction, a California Oak, said to be planted in the mid 1700s by Fr. Junipero Serra during his travels to establish missions along the Camino Real, was growing on the property. Tomlinson kindly left the oak untouched, and built his home nearby, with the stately tree providing some shade for the front of the adobe. The oak tree is still standing in the present day courtyard.
There seems to be very little information recorded on Tomlinson. In 1835 he is reported to have built a still with Job Dye just north of Monterey in Zayante (present day Felton), and may have been associated with the logging industry in that area. A Monterey area history published in the November 30, 1938 edition of the Santa Cruz Evening News mentions Tomlinson as a "trapper" active in the Monterey area circa 1833. Whatever his position in the community, Tomlinson must have been well off to afford construction of such a grand hacienda.
The dark side of the building's history began in 1837 when James Stokes "acquired" the hacienda from Tomlinson. Stokes had just earlier arrived in Monterey with a stash of money and a murky past. Most reports describe Stokes as a sailor who jumped ship upon arriving in California. Other reports describe Stokes as sea roving criminal who stole some surgeon's instruments from the ship he was on, and arrived in Monterey claiming to be a doctor, setting up a medical practice better known for failure than success.
One of these deadly failures was reported to be Ambrose Tomlinson, who passed away under the care of Dr. Stokes. Tomlinson left a wealthy and well-landed widow, known as Josefa, Josefina or Maria, who subsequently married the good Dr. Stokes, after a decent mourning period, of course.
Good Times to Bad Times to Modern Times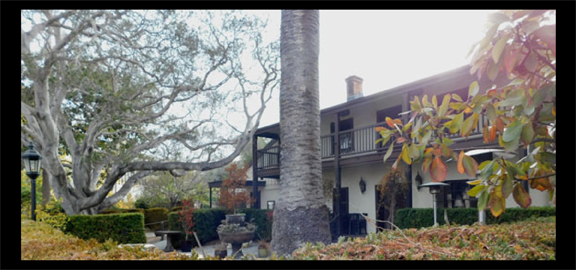 The Stokes family enjoyed a decade of relatively good times, adding ten children to Josefina's original four with Tomlinson, and making additions to the building, including seven rooms and second floor. The good times ended in 1855 when Josefa, died unexpectedly at the age of 39. Several years later, Josefa's eldest son tragically drowned at the age of 21.
These losses, and likely additional factors, caused Stokes' physical and mental health to deteriorate. He became a heavy drinker and his behavior was reported as alarming and erratic. His slow decline ended in 1864 when Dr. Stokes ended his own life with a dose of strychnine.
The house itself continued to be a center of activity in spite of the tragedies in its past. Other families took ownership over the years, making their contributions to the property and its upkeep.
These residents included the wealthy Gragg family, including socialite Hattie Gragg, who lived in the house from 1890-1948. She was reported to particularly favor her boudoir, located in the front upstairs room, as her private retreat.
It was in 1950 that the Stokes Adobe reached its current configuration as a hospitality location, when Gallatin's restaurant was opened there. The location well regarded and popular, with celebrities including Frank Sinatra, Dean Martin and Bob Hope among the guests.
As time went on, there were other owners and venues at the location until the most recent owners of Restaurant 1833 occupied the property.
Paranormal Manifestations
Tales of paranormal happenings in the building were reflective of its long and colorful history. Perhaps with the current vacancy, there are restless spirits from across the centuries, manifesting themselves in the well-appointed rooms of the historic adobe.
Reports from various sources describe a range of such manifestations.
Footsteps were heard walking through the upstairs floor, when no one is there. A child's cries were also heard in the same area.
Employees at the restaurant described turning off all the lights for closing and leaving the building, only to see all of the lights back on once they had reached their car in the parking lot.
Hattie Gragg's bedroom, now the upper dining room, was the site of several manifestations, including clouds of fog and a full-bodied apparition. Other witnesses described the room as having a friendly, warm feeling to it – perhaps signs of Hattie's continuing affection for her favorite place.
An apparitional Dr. Stokes has also been reported wandering the building, sometimes clad in a white lab coat. Some witnesses report apparent sightings of Josefa.
Paranormal activity at the Stokes adobe has also been featured on television and is an attraction for local tours.
A photograph of the elegant front gate at the Stokes Adobe, taken by the Mysterious Destinations Magazine Team during their visit, revealed a noteworthy daytime anomaly in the area of a hedge (see photo at bottom of this page). "This is a different kind of image than ones like orbs, that we see more often," said Mysterious Destinations Magazine research director Greg Latimer, a former police evidence photographer. "We don't usually see images this formless, or with this type of color intensity."
Latimer considered that the image may be from light reflecting on the camera lens, known as a halation, or perhaps a problem with the digital camera. However, these explanations couldn't be confirmed as the source. "Here at Mysterious Destinations Magazine, we like to say we don't believe in ghosts, we believe in anomalies," Latimer said. "So in a case like this, when we can't figure out what it is or isn't, then it's an anomaly. It leaves one to wonder if perhaps Josefa or Hattie may have had a favorite color."
Easy to Find and Visit
The Stokes Adobe is located at 500 Hartnell Street, in Monterey. The location is steps from City Hall, the Monterey Harbor, and Fisherman's Wharf, where the cruise ship tenders land.
While residents and visitors wait in anticipation to see what new venue may be established at the Stokes Adobe, the location still remains worth a visit even while the facility is closed. The stately oak tree is easy to admire over the hedges that ring the property. There is also a palm tree, said to be the tallest in Monterey County, that graces the courtyard. Then, of course, there is the building itself, a testament to times past, to the lives lived in these elegant confines, and the possibility that some of those spirits may still be right at home within the historic and haunted Stokes Adobe.
Updated January 17, 2021: The Stokes Adobe is no longer listed as for sale. The Mysterious Destinations Magazine staff is following leads on what will happen with the property, and will post any new information here as soon as it becomes available.
If you would like to be notified when a new venue is in place at the Stokes Adobe, please join us as a subscriber… It's free, and subscribers get follow-up notifications on all of our articles!
Photo of Possible Anomaly at the Stokes Adobe in Monterey (below)